Income at auctions: how does Christie's earn?
The year 2018 turned out to be very successful for the auction house of Christie's – employees managed to hammer off Picasso, Monet's works, pieces of art from the Rockefellers collection, and even Stephen Hawking's things. At the end of last year, revenue at the auctions of this company increased by 3%, compared with 2017, and amounted to $ 7 billion. Christie's is most proud of the sale of the Rockefeller family collection – this auction has become the most expensive in history and has brought $ 835 111 344.
In addition, the company set 7 world records for the price, and 67 lots were sold for more than 10 million pounds sterling.
Income at auctions at company Christie's
It is worth noting that the average percentage of sales of lots in the company amounted to 82% – this is an unprecedented performance, and the company itself believes that they were able to achieve such indicators thanks to a careful approach to holding events. The company conducts curatorial auctions, for which an expert is invited, who selects the best and most interesting lots. In addition, the organization spends evenings at Christie's Lates, where you can listen to the concert, at the same time get acquainted with the exhibition and talk about high art with like-minded people.
Despite the fact that auctions and collecting in principle are conservative concepts, Christie's does not shun new technologies. Thus, in 2018, the organization held 88 auctions online, which resulted in a profit of 65 million pounds, which is 16% more than in 2017. And the matter is not only in the collected amounts, but also in the importance of art objects that people are now ready to buy through the Internet.  So, this year they sold online: a meteorite of the "Devil's" canyon for almost 250 thousand dollars, Stephen Hawking's chair on which he moved in recent years – he was valued at £ 300, due to which this lot became one of the most expensive section of online auctions. The text of the dissertation of the scientist was also sold (for almost 600 thousand pounds sterling) and his medals – for 300 thousand pounds sterling. In addition, Christie's is starting to use blockchain technology — like selling items from Bari Ebsworth's collection. So, the works of Pollock, Hopper, de Kooning and Jasper Johns passed through the decentralized registry – the check did not drop below $ 20 million.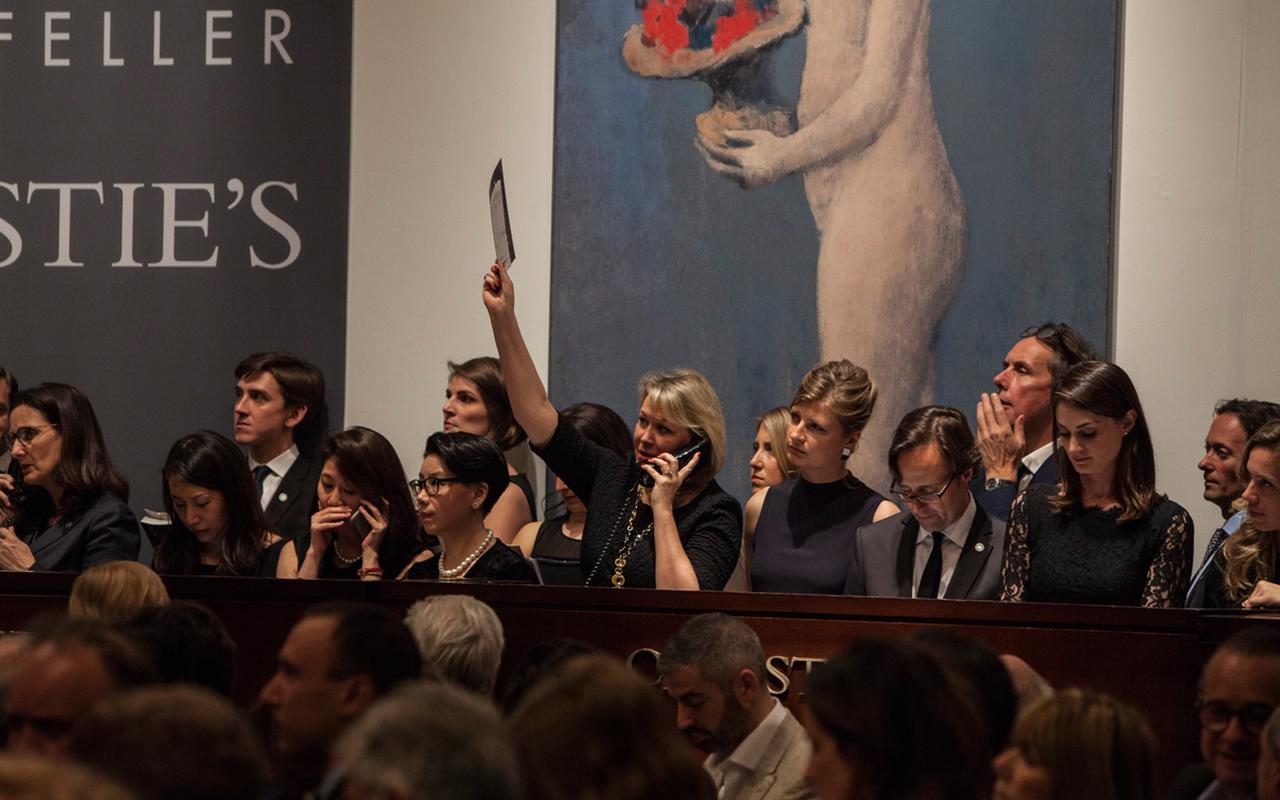 Also, the auction house has its own mobile application and a site that is very popular among those interested in art – for the year traffic amounted to 11 million unique visitors. Christie's leads on Instagram and its audience on this social network has increased by a quarter. Interestingly, out of 32% of new customers, 41% were online. Most of these online users paid attention to jewelry, antique accessories, post-war and modern art. At Christie's, it is estimated that revenue at auctions conducted with modern technologies grows faster than the results of expansion into other countries. For example, in Asia, sales grew by only 5%.