Life of Yves Saint-Laurent: who was the great fashion designer?
Yves Saint-Laurent's life is full of amazing twists of fate. This outstanding figure of fashion and culture in general, was able to go through a thorny path from sewing dresses for dolls to own exhibitions at the Metropolitan Museum. He even served in the army, though only 20 days. During his life, Yves Saint-Laurent bought art objects for 350 million EUR.
It is without a doubt a legendary and very talented French designer who is associated with the whole era. He created dozens of sophisticated collections, thousands of dresses and suits and even managed to sue Christian Dior. What was Yves Saint-Laurent's life like?
5 surprising facts about the life of Yves Saint-Laurent
1. Dolls of rags
Saint-Laurent became interested in sewing dresses as a child, when he was in Algeria – at that time, this country was a colony of France. Not having the skill to sew, a little boy glued outfits for dolls from different rags. Then he created entire performances with the participation of his dolls, thinking through every detail and even the scenery. After a while Yves learned to sew and began to create outfits for mother and sisters. At the age of 17, the young man perfectly sewed and studied in Paris and for good reason: his cocktail dress won a major (as it seemed then to Maestro) competition.
2. Work with Christian Dior
In 1955, Saint-Laurent met the editor of Vogue. He was struck by the talent of the novice fashion designer and introduced him to Christian Dior. The master accepted Saint-Laurent as his assistant, and when Dior died in 1957, 21-year-old Yves became the artistic Director of the fashion house Dior. A year later, he presented the first collection called "Trapeze", with references to Russian folk sarafans (Russian traditional women's clothing).
3. Service in army
In 1960, Saint-Laurent was drafted into the army – again in Algeria. Thin mental organization of the young man could not stand the strict regime of the army, he had a nervous breakdown and he was sent home. Then he was treated in a psychiatric clinic and after leaving there met with philanthropist Pierre Berger, who helped the designer to win the court from Dior – fashion house unilaterally broke the contract with Saint-Laurent and thus violated the terms of the contract, for which the young designer received a decent compensation and opened his fashion house – YSL.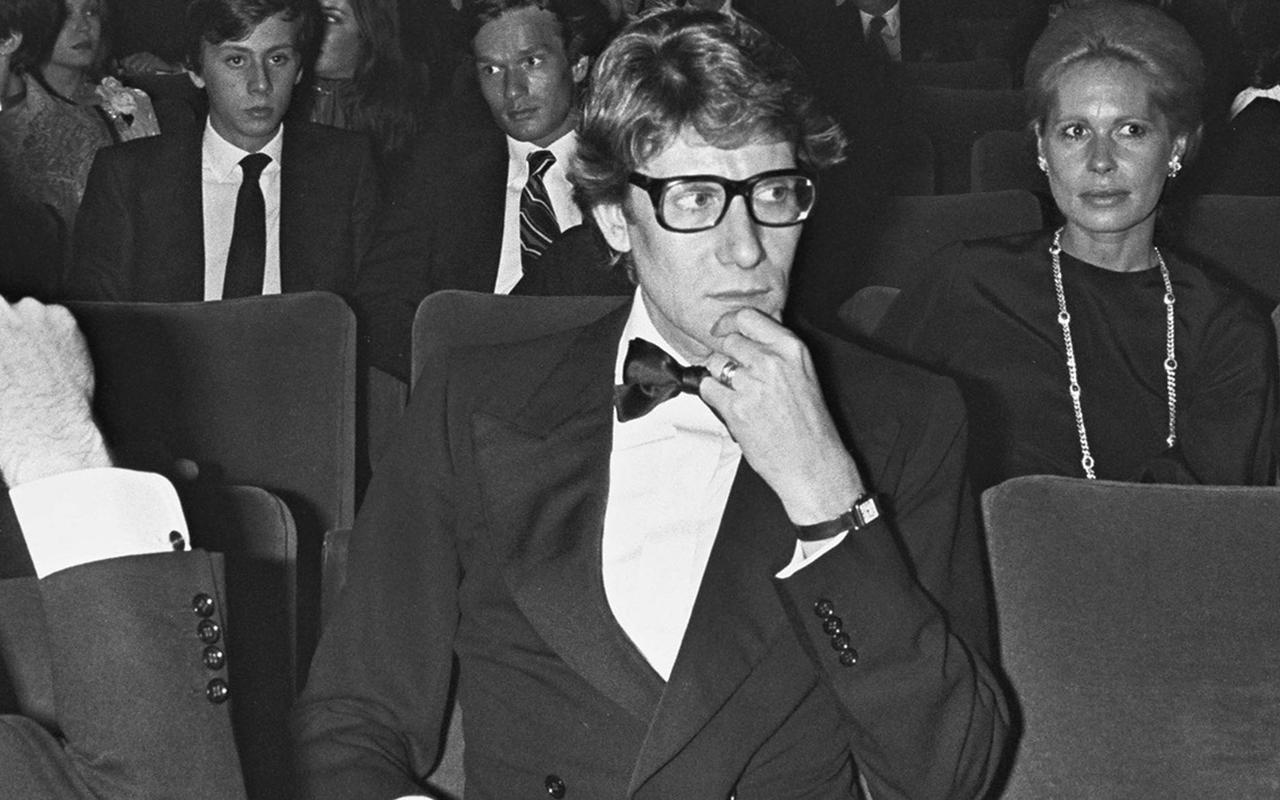 4. The Metropolitan Museum of Art
Berger was engaged in the company's accounting. He and Yves had a romantic relationship for a while, but when the affair ended, it didn't stop them from being business partners. The business was going up, each collection sold even better than the previous one. In 1983 he became the first fashion designer, whose collection was awarded a nominal exhibition at the Metropolitan Museum. 150 the best outfits of the maestro were presented at the exhibition.
5. Saint-Laurent's pets
Yves was very fond of French bulldogs, he had four of them. Wherever the designer went, his dogs traveled with him. Yves called his first dog as Moujik but the dog died, poisoned with tablets of his master. Then there was Moujik II. The last dog of Saint-Laurent, Moujik IV, lived longer than his master.