Premium Genesis did not overtake new Maybach of 2019
Korean concern Hyundai has its own premium brand Genesis. It introduced a new model of limousine G90 L – now it is the flagship car of the Korean brand. Interestingly, the Koreans themselves call this model a limousine, although in reality there is no partition between the driver's and passenger's area considered mandatory for the limousine. But the size of the car is like in the limousine: the length of the car is 5495 mm – this is 290 mm more than that of Genesis G90 sedan used as a basis. The extension was due to a hollow insert in the central part of the body, enlarged rear door gave another 40 mm. But despite all the innovations and beauty guidance, Genesis did not pass over with the characteristics of new Maybach of 2019
Two separate seats with massage option are behind the cabin of the "limousine". Each seat can be adjusted with 18 special buttons and levers; however, it will be impossible to make a bed from a chair (as it is possible in many other cars of premium brands).
On the other hand, this luxurious Korean car will provide excellent conditions for rest, intensive work or reading, automatically adjusting the position of the seat, lighting and more. Also in the updated model, there are special pockets for printed products.
As a result of the restyling, the finish has changed and has become richer and more luxurious. In the cabin, the semi-aniline skin with impressive patterns can be observed.
Belgian Luc Donkervolke, who had previously updated the appearance of a sedan, and then began to work on a limousine, designed the car. It is noteworthy that the update is much deeper than it might seem at first glance. Specifications remain the same. Genesis G90 L is only available with a 5-liter V8 engine with 425 horsepower. All-wheel drive car runs on an 8-speed automatic transmission. Other modifications are not presented. The cost of this luxury car is from 9 100 000 rubles. Interestingly, the same limousine before restyling is sold for 6,400,000 rubles. Therefore, it is clear that the demand for the updated model will be almost single.
New Maybach of 2019: characteristics
New Maybach of 2019 is considered the most popular among VIP-level cars. Mercedes Maybach S-class has a stylish, bright design. Inside a very comfortable lounge with all sorts of options designed to make use of the car even more comfortable. In addition, the manufacturer attended to a whole range of engines, unlike Hyundai. The German luxury monster will obviously find its audience; despite its high cost is 9 million rubles for the simplest equipment, and about 20 million rubles for the top version.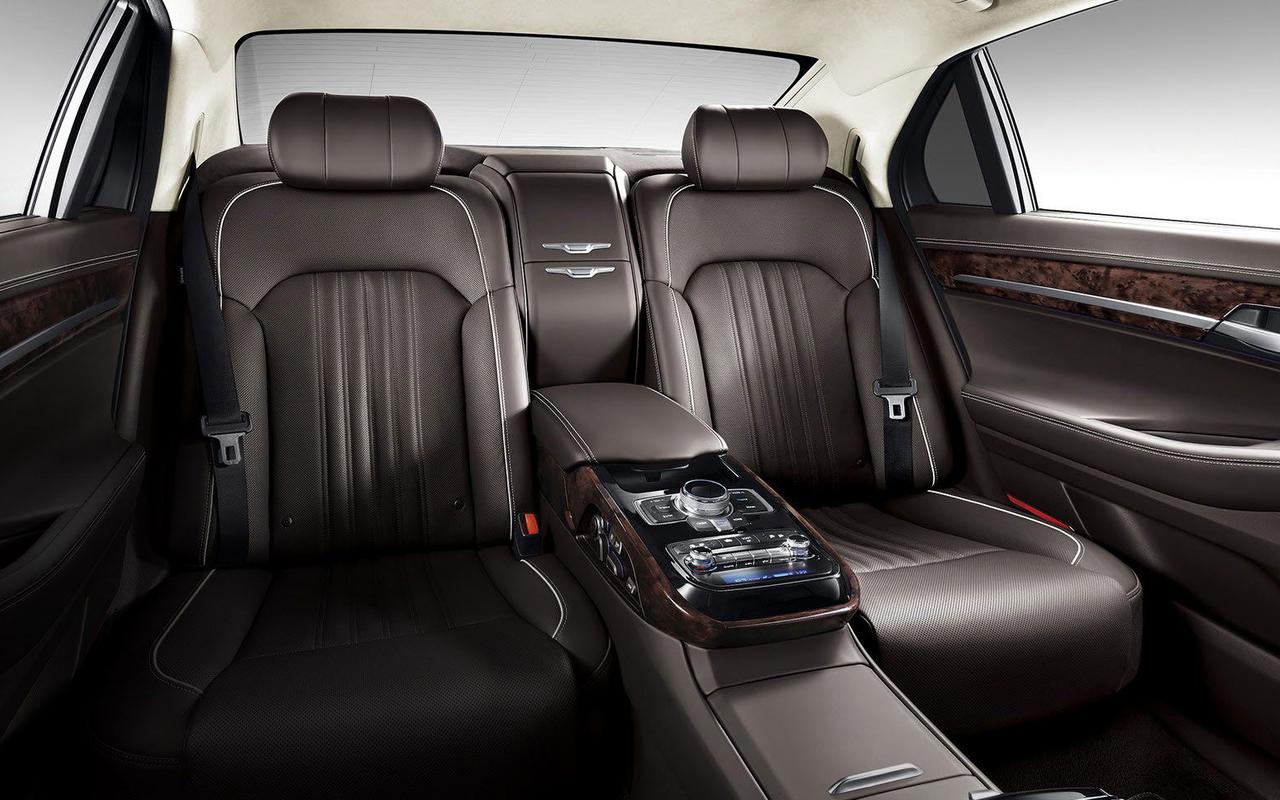 The car interior is trimmed with several types of leather, rare wood; there are inserts of Alcantara and metals. There is a huge multimedia display in the driver area, all options and entertainment elements are configured through it. Climatic indicators are configured with buttons that fit perfectly into the interior. A distinctive feature of the car is the steering wheel, which is not similar to those steering wheels, which are usually put in a luxury car. It is rather small, may be covered with leather or have wooden inserts. The spokes are decorated with aluminum, and buttons are fixed on them to control various options. The entire dashboard is virtual; the driver chooses which parameters he wants to pay attention.