Richard Mille watches will be sold in Moscow
Richard Mille is the eponymous brand of luxury Swiss watches, founded in 1999. Richard Mille SA is based in Les Breuleux, in the canton of Jura, Switzerland. From today the brand has its first specialized boutique in Russia. The new boutique of Swiss ultra-expensive watches in Moscow will be located in Stoleshnikov Lane, next to other luxury products for Russian buyers. This will be the last to date boutique Richard Mille, which over the past year has created a number of outlets in Europe and the Middle East.
According to Peter Harrison, CEO Richard Mille Europe, Middle East and Africa, Russia has a rich history of luxury goods and unique products for the premium market. Moscow is a key capital not only for Russia, but also for many Eastern countries. So it was obvious that Richard Mille would eventually open a flagship store in this historic and bustling city.
Where will Richard Mille watch be sold?
The boutique occupies two floors and has some of the most emblematic features of the Richard Mille boutique, such as the black macassar floor, the cream and silver wallpaper of Sophie Mallebrunch and the walls covered with black skin. From the ground floor, visitors will be able to watch the watchmaker working on the ground floor thanks to the open atrium.
To climb to the second floor of the world Richard Mille, guests will use a modern staircase of broken glass and mirror. The second floor leads to a workshop made of transparent glass, and there will be a VIP-hall with a bar. Other classic examples of the interior of Richard Mille boutiques are the huge watches of the brand, engraved in several layers of the glass facade, as well as the walls of "broken glass" placed near the entry.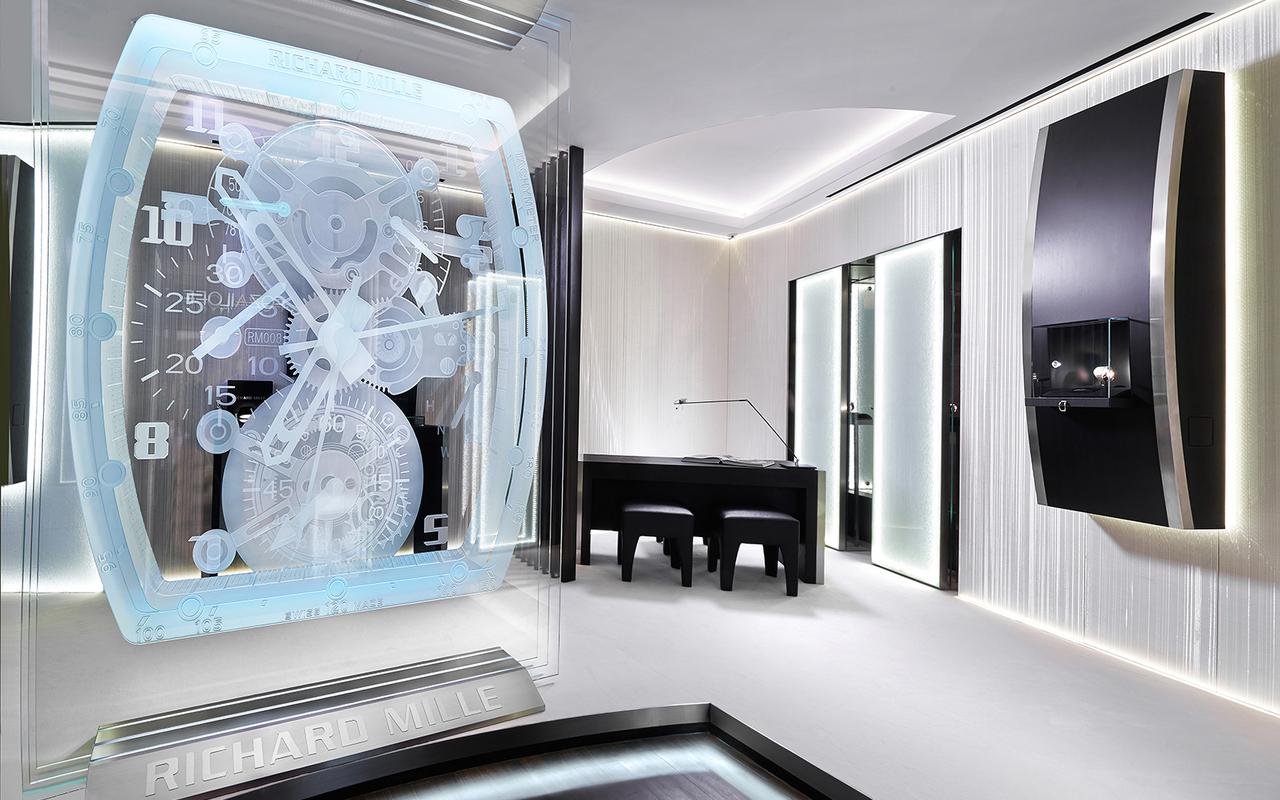 Once inside, the guest will pass through the atrium to the second room, where there is a library with the collection of books of the brand published by the Parisian publishing house Éditions Cercle d'Art, a company belonging to the group Richard Mille. Richard Mille fans and accessories collectors will discover the collection of the best watches of the brand, from the popular automatic Ladies and Gents to the sports models developed in collaboration with partners of the brand. By the way, the store will also be able to buy the most popular model of the brand Tourbillon RM 008, which is known as one of the most worked watches in the world. Clients can visit new boutique Richard Mille at Stoleshnikov Lane, house 14/1. The shop is open Monday to Sunday from 11:00 a.m. to 09:00 p.m. See detailed information about Richard Mille watch on www.richardmille.com